Shows
Features
BSCC May 2013
Find out what the BSCC have in store for the next couple of weeks including a special lunch with Dr. Tariq Ramadan
Partridge Auctions, pick up a bargain
A new English speaking auction in the Frontier region - for all your furniture and furnishings
The McKay Interview
Michael McKay speaks to the decision makers and local leaders in the Frontier region. In this edition he talks to Professor Teddy Puttgen from the EPFL. Professor Puttgen runs the Energy Centre at the university and advises the Swiss government on energy policy.

Local Information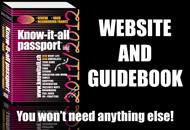 Know-it-all passport
Guide and website for Geneva, Vaud, and neighboring France.
Léman Events
Sunday November 4, Beaulieu, Connecting People and Businesses, since 2006.
Expat Expo 2012
October 14, 2012 from 11 AM - 5 PM at the Ramada Encore Event Center at La Praille